Oct
16
Saturday, 10:00 pm
Hip Hop / Rap
GANGSTA PARTY
446 Franklin Limestone Rd
446 Franklin Limestone Road Nashville,TN 37217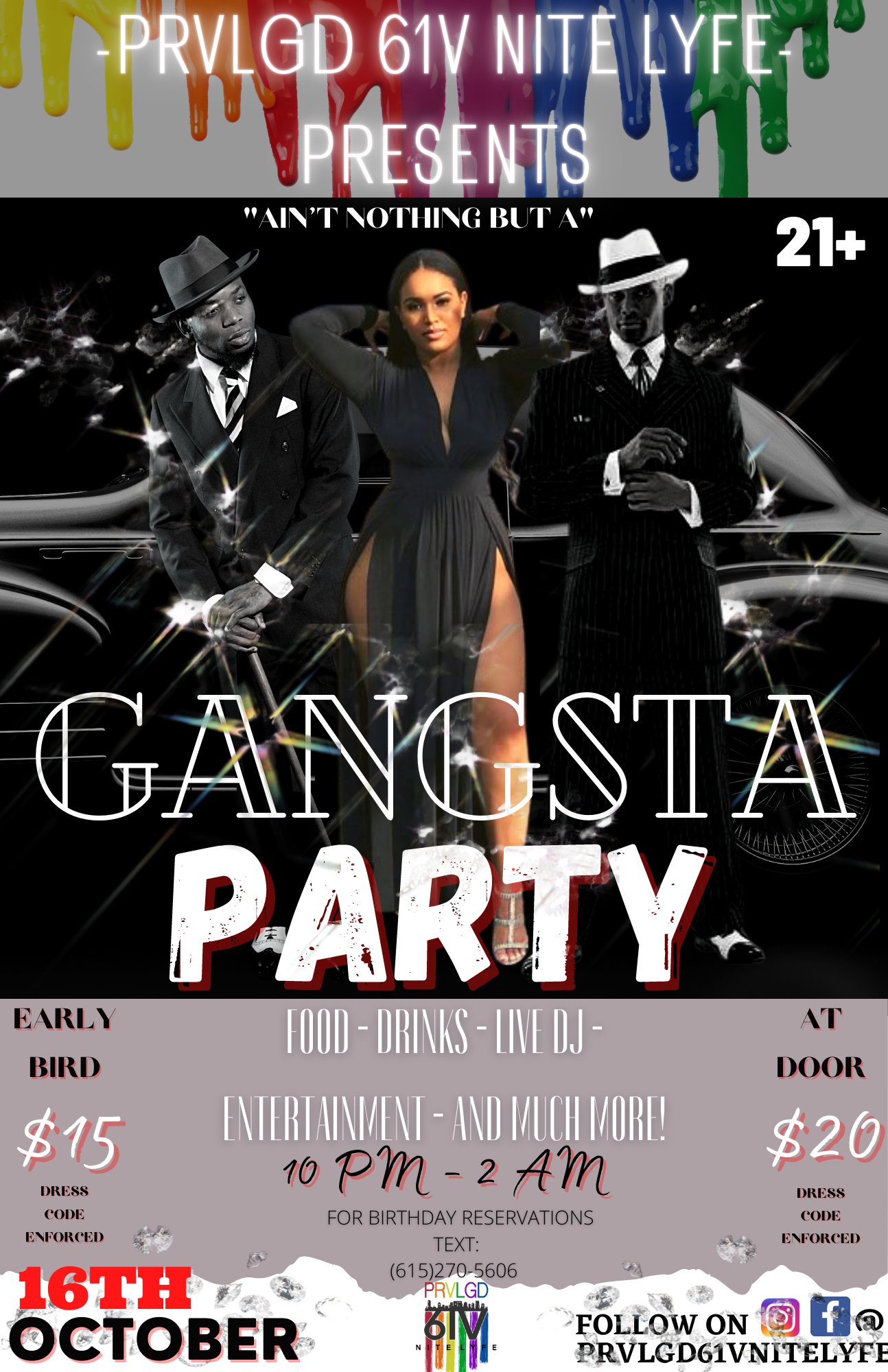 Description
Ain't nothing but a gansta parrrrty! *yes, this is in Tupac's voice*
NASHVIIIIILE!!! This one is for all the gansta's and gansta boo's, where y'all at? We mean the REAL OG's with the pinstripes and wing toes, the pearls and fur, 1920's style! We going up "Harlem Night's" speakeasy style ya'll.
If you've never been to a speakeasy here's your chance to catch the vibe. If you don't know we're talking a few cigars and champagne, a live performance, a private location, and a super chill atmosphere.
We know some of y'all still have pinstripe suits from an Easter past, pull it out and let's go! Beautiful ones, here's your reason to buy that little cute cocktail dress you passed up because you didn't have anywhere to where it to. We got you baby! Show us your best flapper style!
This one is going to be cool asf. Real smooth like. It ain't nothing but a GANSTA Party!
FAQ's
Q: Can I purchase a ticket at the door ?
A: Yes, you can purchase tickets at the door on the night of the event. However, the price goes up at the door.
Q: Will there be food and drinks?
A: Yes, food and drinks will be available for purchase.
Q: Is VIP available? Can I host my birthday or other event here?
A: Yes of course! We would love to celebrate with you. Reach out to us directly for more information. VIP tickets are available, and we offer different packages. You can text 615-270-5606 for more information.
Q: I want to host and/or perform at an event. Who do I contact?
A: PRVLGD 61V Nite Lyfe is committed to supporting the local LGBTQ community, inlcuding all creators. Contact us today to host your next show, showcase, performance, release etc.!
Q: I have additional questions, how can I reach PRVLGD 61V Nite Lyfe?
A: We can be reached at 615-270-5606, or [email protected] We'd love to hear from you.