Oct
20
Wednesday, 6:15 pm
Literary Arts
Salon615 Elizabeth Strout & Susan Orlean in conversation with Ann Patchett
Paschall Theater at Montgomery B
4001 Harding Pike Nashville,TN 37205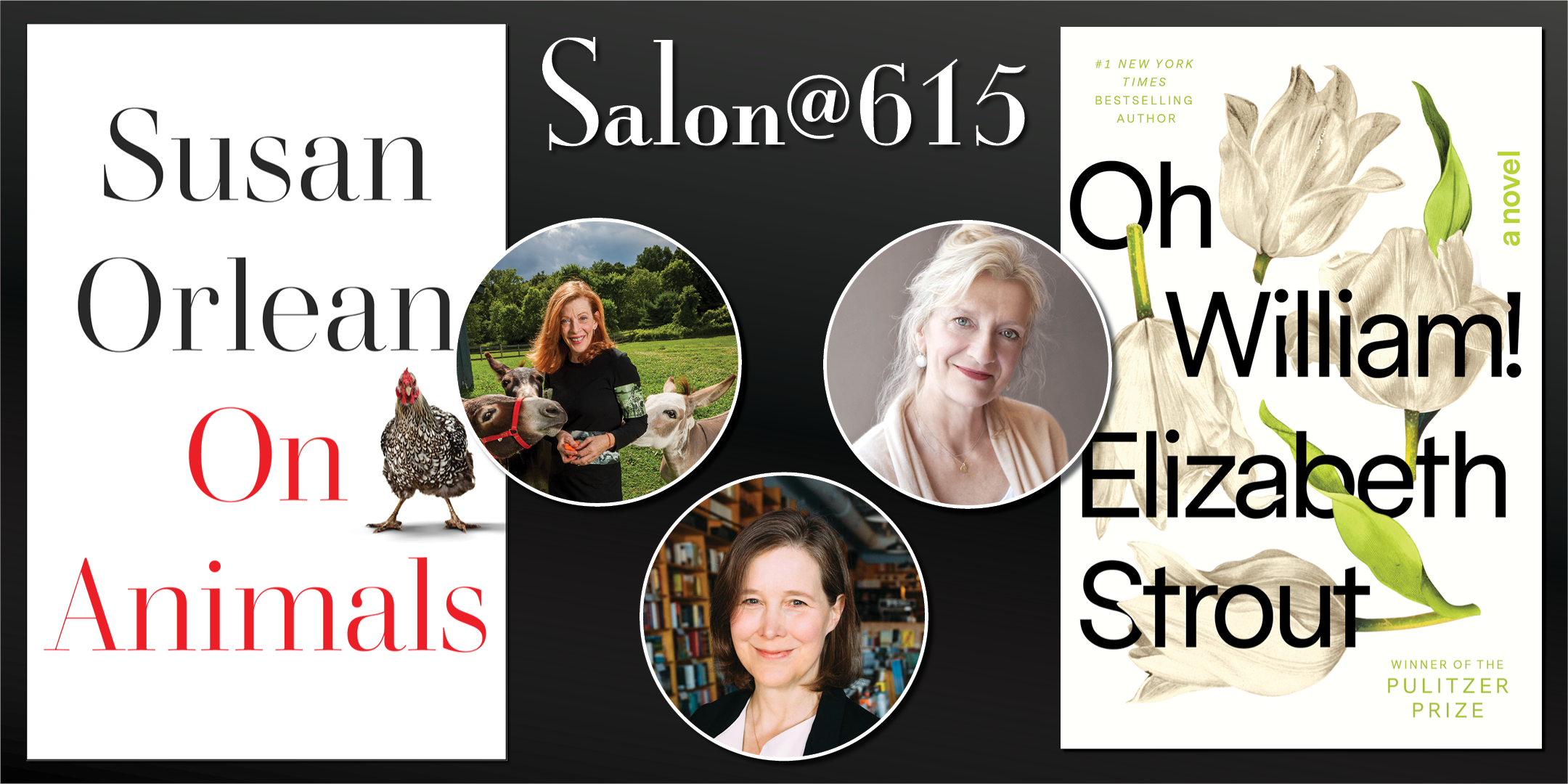 Description
[email protected] Special Edition presents a one time opportunity to see Elizabeth Strout and Susan Orlean, in conversation with Ann Patchett. Join us as these three authors discuss Orlean's new book, On Animals, and Strout's new book, Oh William! This amazing event will take place in the Paschall theater at Montgomery Bell Academy, 4001 Harding Pike, Nashville, TN .
[email protected] Special Edition is presented through a partnership between Parnassus Books, The Nashville Public Library, The Nashville Public Library Foundation, Humanities Tennessee, and BookPage.
Ticketing
There are 3 ticket options for this event:
A general admission ticket for one person with a signed copy of Oh William! by Elizabeth Strout - $34.00
A general admission ticket for one person with a signed copy of On Animals by Susan Orlean - $34.00
A general admission ticket for one person with signed copies of both Oh William! and On Animals - $63.50
Additional signed copies of both books will be available for purchase at the event.
There will not be a signing line for this event.
About the books:
Oh William! by Elizabeth Strout - Strout's iconic heroine Lucy Barton recounts her complex, tender relationship with William, her first husband , Lucy is a writer, but her ex-husband, William, remains a hard man to read. William, she confesses, has always been a mystery to me. Another mystery is why the two have remained connected after all these years. They just are.
So Lucy is both surprised and not surprised when William asks her to join him on a trip to investigate a recently uncovered family secret--one of those secrets that rearrange everything we think we know about the people closest to us. What happens next is nothing less than another example of what Hilary Mantel has called Elizabeth Strout's "perfect attunement to the human condition." There are fears and insecurities, simple joys and acts of tenderness, and revelations about affairs and other spouses, parents and their children. On every page of this exquisite novel we learn more about the quiet forces that hold us together--even after we've grown apart.
At the heart of this story is the indomitable voice of Lucy Barton, who offers a profound, lasting reflection on the very nature of existence. "This is the way of life," Lucy says: "the many things we do not know until it is too late."
On Animals by Susan Orlean - How we interact with animals has preoccupied philosophers, poets, and naturalists for ages," writes Susan Orlean. Since the age of six, when Orlean wrote and illustrated a book called Herbert the Near-Sighted Pigeon, she's been drawn to stories about how we live with animals, and how they abide by us. Now, in On Animals, she examines animal-human relationships through the compelling tales she has written over the course of her celebrated career.
These stories consider a range of creatures--the household pets we dote on, the animals we raise to end up as meat on our plates, the creatures who could eat us for dinner, the various tamed and untamed animals we share our planet with who are central to human life. In her own backyard, Orlean discovers the delights of keeping chickens. In a different backyard, in New Jersey, she meets a woman who has twenty-three pet tigers--something none of her neighbors knew about until one of the tigers escapes. In Iceland, the world's most famous whale resists the efforts to set him free; in Morocco, the world's hardest-working donkeys find respite at a special clinic. We meet a show dog and a lost dog and a pigeon who knows exactly how to get home.
Equal parts delightful and profound, enriched by Orlean's stylish prose and precise research, these stories celebrate the meaningful cross-species connections that grace our collective existence.
About the authors:
Elizabeth Strout is the #1 New York Times bestselling author of Olive, Again; Anything Is Possible, winner of the Story Prize; My Name Is Lucy Barton; The Burgess Boys; Olive Kitteridge, for which she was awarded the Pulitzer Prize; Abide with Me; and Amy and Isabelle, winner of the Los Angeles Times Art Seidenbaum Award and the Chicago Tribune Heartland Prize. She has also been a finalist for the PEN/Faulkner Award and the Orange Prize in London.
Susan Orlean has been a staff writer at The New Yorker since 1992. She is the author of seven books, including Rin Tin Tin, Saturday Night, and The Orchid Thief, which was made into the Academy Award-winning film Adaptation. She lives with her family and her animals in Los Angeles and may be reached at SusanOrlean.com and Twitter.com/SusanOrlean.
Parking at Montgomery Bell Academy
Montgomery Bell Academy Parking Garage is located at 205 S Wilson Blvd, Nashville, TN 37205, USA. There is no cost to park.