Everything you need to know about Super Bowl LIII including Nashville's top spots to watch the biggest game of the year! 
______________________________________________________________________
Have you ever been that person who showed up to a Super Bowl party and asked, "Who's playing?" or frantically googled it on the way in? This year, you don't have to be that person because we've got a cheat sheet below that'll get you Game Day ready in seconds.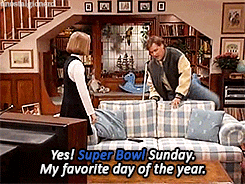 When is Super Bowl LIII?: Sunday, Feb. 3rd at 5:30pm (CST).
Who's playing?: The New England Patriots and the Los Angeles Rams. (Side note: The game is pretty much a rematch of Super Bowl XXXVI in 2002 when the Patriots beat the Rams. Also worth noting, the Patriots won last year's title and played in the Super Bowl the year before that).
missing or outdated ad config
Where is Super Bowl LIII being played? Mercedes-Benz Stadium in Atlanta (Home of the Falcons). This will be the third Super Bowl played in Atlanta but the first at this stadium which opened in 2017.
Who's singing the National Anthem? Seven-time Grammy Award winning R&B legend Gladys Knight (who hails from Atlanta).
Who's performing at halftime? Pop band Maroon 5 will headline the show. They'll be joined by rappers Travis Scott and Big Boi.
How long is the Big Game?: The Super Bowl typically lasts around 4+ hours. The length of the game should be proportionate to the amount of food on hand. Keep snacks convenient so you don't miss the commercials when you're going for refills!
How can I watch Super Bowl LIII? The game will air on CBS. You can also watch it live and for free on the CBS Sports mobile app or on their website, CBSSports.com. But if you're going out to watch the big game, check out our list below for some of our favorite spots for Super Bowl Sunday!
Top Spots in Nashville to Watch Super Bowl LIII
Photo via Facebook.com/DoubleDogs
Two locations in Nashville: Hillsboro Village and Sylvan Heights. Enjoy the game on one of their 25+ TV's from any seat in the house! Full restaurant and bar with the Dog Bowl Nachos being the crowd favorite on the menu.
Double Dogs | 1807 21st Ave. S & 4017 Charlotte Ave. | Nashville
Photo via Facebook.com/CityWineryNashville
Come to their FREE event and watch the game on twin 16×10 foot screens! Plus, enjoy food specials like Nick's Big Game Burger & Fries, Big Game Mac N Cheese, Buffalo Chicken Dip and General Tso's Fried Chicken Wings!
City Winery | 609 Lafayette Street | Nashville
Photo via Facebook.com/Acme-Feed-Seed
Watch the Super Bowl on lower Broadway at Acme! Head upstairs to watch the game and enjoy food and drink deals. Not into sports but still want to hang with the group? Go downstairs to catch live music by the Cameroons and Jerry Pentecost.
Acme Feed & Seed | 101 Broadway | Nashville
Photo via Facebook.com/TheGeorgeJonesNashville
Come enjoy pre-game and all day specials at The George Jones Nashville! Amazing views and food! Just look at that sammie. The Rocky Top Sandwich is made of house smoked and pulled pork and chicken, topped with coleslaw and macaroni n cheese on a brioche bun. Yum!
The George Jones | 128 Second Avenue North | Nashville
Photo via Facebook.com/JonathansGrille
Jonathan's is an upscale sports bar with locations in Green Hills, Mt. Juliet, Franklin, Bellevue, Hendersonville and Murfreesboro. Lots of TV's and a delicious, diverse menu!
Jonathan's Grille | 3805 Green Hills Village Drive | Nashville
________________________________________________________________________
For all your Nashville needs (Arts & Culture, Live Music, Eats & Drinks, Outdoor Adventures and more) browse daily suggestions at Wannado.com.