Calling all Christmas people!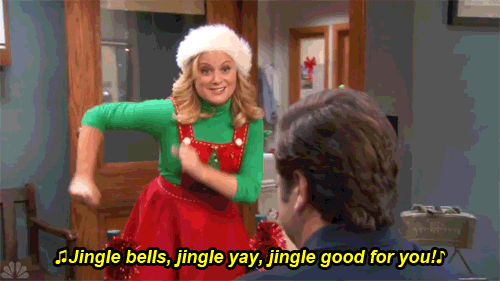 Do you have so much Christmas cheer that everyone near your cubicle is begging you to stop playing Nat King Cole Christmas (you never will) and to take the jingle bells off your socks (not happening)? Nashville has a crazy amount of holiday events for you this weekend. There are even activities for the Scrooges out there. Here are 10 awesome things to do in Nashville this weekend (and if you like to browse on your own, check it all out in Wannado)!
missing or outdated ad config
______________________________________________________________________
We're Dreaming Of A White Christmas/Bing Crosby's Baby Blues
WHAT IT IS:
One of the Christmas classics, of course! Head to Belcourt Theatre (which will already get you in a nostalgic mood – it has been around since the 1920s) for the old song-and-dance Christmas film featuring Bing Crosby (who wears a lot of high-waisted pants) and Rosemary Clooney (that's George's talented aunt, kids).
GOOD FOR:
Taking a long late lunch break with your most festive friend. Bonus points if you guys can silently act out the "Sisters" dance in your seats.
MAKE A DAY OF IT:
The old school fashion in this film is a straight up revelation. You're going to want to get yourself a little early Christmas gift, and nearby vintage shop Savant Vintage will have just the thing! After you purchase a (slightly impractical) petticoat, go warm up with a latte from Frothy Monkey.
______________________________________________________________________
Add Some (Actual) Spice To Your Home
WHAT IT IS:
A festive gingerbread house-making bonanza. Yes, those are a lot of positive words, but how can you be anything but ecstatic when there will be an open CANDY BAR? Head to Cheekwood for a fun "adults-night-out" designed for your inner child, complete with light bites, a cash bar, tons of candy, and a gingerbread kit. Props to anyone who can get theirs home without eating it all.
GOOD FOR:
Your dinner club, church group, fantasy football league – it would be a great night out for your organized group of pals! Send that email, champ.
MAKE A NIGHT OF IT:
Grab a hot beverage from nearby Dose coffee shop and hit the town, Christmas lights style! Split your group into two or three cars if you need to and check out the Christmas light displays in the residential areas in Belle Meade. If you're still hungry after all that candy (no judgement), check out festive west side spot The Stone Fox. There's tinsel hanging from the ceiling! We love it.
______________________________________________________________________
Downton Season 5 & A Party Fit For A Flapper
WHAT IT IS:
Everyone's favorite throwback British drama is back for Season 5, and Nashville is getting a proper premiere. Hosted by NPT at The Franklin Theatre (in downtown Franklin, the coziest place to be during wintertime, by the way), this advance screening of the season premiere will be followed by a 1920's party that could rival Gatsby's. Hors d'oeuvres, cocktails, live music, photo opps, all at the antique shop across the street. Wear your flapper best – this is a costume event!
GOOD FOR:
A wintry date night when you feel like splurging. Get a sitter & dance the night away!
MAKE A NIGHT OF IT:
This event is pretty all-inclusive, but if you want to get a substantial meal before the party, Gray's On Main is the perfect place to kick off your 1920s night. The Prohibition-era cocktails are the classiest pre-game around. Franklin is a bit of a drive for central Nashvillians, so make sure you grab a Lyft if you plan on drinking!
______________________________________________________________________
Make A Pretty Ornament AND Feel Like A Boss
WHAT IT IS:
Team Green Adventure is hosting another super unique event. Head to Franklin Glass Blowing Studio to learn the ins and outs of the most badass (just LOOK at those guys) crafting activity around. At the end of the class, you'll be able to make your own ornament!
GOOD FOR:
A unique alternative to Christmas shopping. You'll be having fun, learning something, AND crossing one of your gift recipients off your list.
MAKE A NIGHT OF IT:
Franklin has one of the best food/drink scenes around. If you feel like watching the game and eating a po'boy, grab some dinner at 55 South on Main Street. If you're in a party mood, stop by The Bunganut Pig for a true dive bar feel, complete with pool tables, darts, beer, and shepherd's pie.
______________________________________________________________________
See The Local Band With A Big Name
WHAT IT IS:
You've probably heard of Paper Route. Nashville has been lucky enough to witness the band's growth since their Music City start in 2004, Their touring roster shows that these dudes truly run with the big dogs – they've been on the road with Paramore, Phantom Planet, Jack's Mannequin, Passion Pit, Copeland, Owl City, Half Noise, Switchfoot, Mutemath, Anberlin, Imagine Dragons…the list goes on. They are also just super awesome on their own and put on a killer show. Check it out!
GOOD FOR:
A date with that indie music-loving dude/lady you're trying to impress. Big name in a small venue? They're sold.
MAKE A NIGHT OF IT:
To celebrate the band's local roots, carbo-load with a tried and true Nashville standard: pizza and beer at Mafiaoza's. We suggest the Kentucky Bourbon Barrel Ale and a slice (or 50) of the Brother Fredo. Pizza and beer and music: the recipe for a pretty delightful Friday night. If you are getting your hipster date on, try an intimate dinner at Rolf and Daughters. Your cool factor will go through the roof, plus you will be eating some of the most top notch brussell sprouts in history.
______________________________________________________________________
'Tis The Season To Give Back
WHAT IT IS:
Volunteer with Hands On Nashville to help fulfill some Christmas wish lists! St. Luke's Community House will have toys and gifts galore, and volunteers are needed to help organize and assist parents with shopping. Nothing says Christmas like giving back!
GOOD FOR:
Your small group or your local family members.
MAKE A DAY OF IT:
Invite someone you love out to lunch and tell them how great they are. Keep those good vibes rollin'! We suggest brunch at Tavern – the tableside s'mores are delicious.
______________________________________________________________________
Celebrate The Holidays Like It's 1899
WHAT IT IS:
The 30th annual Dickens Of A Christmas is about as picturesque as it gets. A free street festival with a literary twist, the event is hosted in the main square of Historic Downtown Franklin and includes all the cutest Christmas activities you can imagine: horse-drawn carriage rides, holiday crafts, dancers (like, we've seen some A+ river dancers), musicians, hand bells, carolers, Victorian treats (eat an actual sugar plum), and of course lots of local Franklinites in their Ghost-Of-Christmas-Past best. Your kids will love it, and so will you!
GOOD FOR:
The whole family. Even the Scrooges.
MAKE A DAY OF IT:
If the street carts have a crazy long line, we suggest ducking into Puckett's or Merridee's Breadbasket for some mid-day comfort food. You'll be wearing lots of layers, so no one will even notice when you undo the top button on your jeans.
______________________________________________________________________
A Very Merry Bar Crawl Fit For Saint Nick
WHAT IT IS: 
If you've been in downtown Nashville during the holidays, you might have seen a huge group of drunken Santas having a blast. Now is your chance to join them. This year's installment of Santa Rampage has the same rules: dress like Santa (variations are welcome), bring toys to hand out (naughty for the participating adults and nice for the kids/tourists), don't be belligerent, and be ready for an adventure that will give you a really good story to tell your grandkids (even if you leave some stuff out).
GOOD FOR:
Your rowdy group of college friends. Relive the magic of the bar crawl.
MAKE A NIGHT OF IT:
This is going to take up your whole night once it gets started, but for an early dinner to combat all that egg nog-flavored liquor, get to Beer Sellar early and order the grilled cheese and onion rings. Pressed sandwiches with bread and cheese soak up all that alcohol, y'all.
______________________________________________________________________
See A Real Life Hulk Smash
WHAT IT IS:
Marvel is EVERYWHERE, and Bridgestone Arena is no exception. This fantastical live show has been in development for a long time, and now the magic of summer blockbusters and vintage comic books is here for you to witness. Spiderman, Iron Man, Black Widow, The Avengers (yes, that means there will be a HULK SMASH), and more round out this action-packed event.
GOOD FOR:
Your adventurous kiddos who are more into action flicks than Frozen.
MAKE A DAY OF IT:
Go out for an early morning breakfast to get the whole crew pumped! If you're looking to go for something old school and close to the arena, try Hermitage Cafe. The nostalgic charm is so much fun, and you will be tempted to get a slice of pie for breakfast. Do it.
______________________________________________________________________
A Nashville Christmas Tradition
WHAT IT IS:
Wertz and his Nashville pals are ALL ABOUT some Christmas. This is, after all, the guy who has a Christmas line called "The Snowglobe Shop". His Christmas album has become a holiday favorite, and he's bringing his own laidback form of cheer to City Winery for a festive and musical sunday night. Expect harmonies tighter than your Imogenes, famous friends, and plenty of carolin'.
GOOD FOR:
A cute concert date that won't break the bank.
MAKE A NIGHT OF IT:
Start the night off right with some good eatin'. Grab an early dinner at Epice if you're feeling exotic, or get down with some wine/coffee and the Royale sandwich at Frothy Monkey. You'll be the coziest!
______________________________________________________________________
Put on those earmuffs, get out of that Netflix funk, and go enjoy your weekend, Nashville! It's the most wonderful time of the year. Didn't see anything that fit your schedule? Browse all the events Nashville has to offer in Wannado. We've got you covered.