Nashville has a lot in common with our favorite F word.. free. There are tons of awesome events happening all spring and summer that cost you nothing at all. That's just one of the benefits of living in the coolest city in the country!
So never fear if this is you (below).. scroll down to check out the best free events this spring and summer!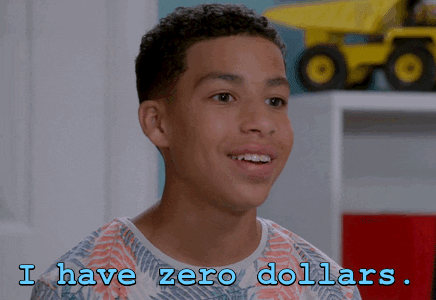 This is huge. Nashville is hosting the NFL Draft for the first time ever. If you've been downtown recently, you've seen the preparations underway for one of the biggest parties in sports. The NFL Draft is free and open to the public. There will be a ton going on downtown but the draft picks will happen at night on the 25th, 26th and 27th on the Draft Main Stage at First and Broadway.
missing or outdated ad config
NFL Draft | April 25th-27th | Lower Broadway & Nissan Stadium

You've probably heard about the free Tim McGraw concert happening at the NFL Draft. It's true. It's happening at the NFL Draft Main Stage on the 26th which will be at First and Broadway in downtown Nashville. You'll be able to watch the show anywhere from Second to Fifth on Lower Broadway and the Music City Walk of Fame Park. The concert will begin when the NFL Draft picks conclude.
Tim McGraw Concert | April 26th | NFL Draft Stage on Lower Broadway

Dierks Bentley will be performing a free concert at the Draft Main Stage at First and Broadway on the 27th, a day after the Tim McGraw show. This show is not only for everyone showing up to the NFL Draft but it's also for all the runners in the St. Jude Rock 'n' Roll Marathon and Half Marathon. In addition to Tim McGraw and Dierks Bentley, tons of other artists, from Moon Taxi to Lindsay Ell, will be performing at the NFL Draft throughout the weekend.
Dierks Bentley Concert | April 27th | NFL Draft Stage on Lower Broadway

Sevier Park Fest will kick off on Friday with a ticketed concert but Saturday's event is FREE! Live music and unique vendors from 10am-6pm make for a fun day in 12th South. One of the festival's highlights? The Hot Wing Eating Contest!
Sevier Park Fest | May 3rd-4th | Sevier Park in 12th South

One of our favorite free events in Nashville.. Musicians Corner! Bring your blankets, chairs and dogs and settle into Centennial Park for some live music! Acoustic Friday nights are always a treat and Saturday shows bring the heat! In addition to great music, Musicians Corner is always packed with food trucks, local artisans and an area for kids.
Musicians Corner | May 10, 11, 17, 18, 24, 25, 31 & June 1, 6, 7 | Centennial Park


You might think tourists when you think CMA Music Festival.. and that's partly true. Hundreds of thousands of people from all over flock to Music City for four days of music, fun and the chance to meet their favorite country music artists. But this event is also for locals. In fact, how lucky are we to have four days of free concerts in our backyard? The nightly concerts at Nissan Stadium are ticketed but almost all of the daytime activities and shows are 100% free.
CMA Music Festival | June 6th-9th | Downtown Nashville
Movies in the Park


Mark your calendars for two nights of free movies in June! The Annual Movies in the Park is back at Elmington Park this year for its' 25th year. As usual, bring your blankets and a little cash for dinner from a food truck. The movies, which begin at sundown, are TBA.
Movies in the Park | June 6th & 13th | Elmington Park

Get creative with the fam! The Frist Art Museum is inviting families to come enjoy a free day of art activities, performances and gallery experiences on June 30th. We give this family fun day an A+!
Frist Family Day | June 30th | Frist Art Museum