Weekdays in every other city be like: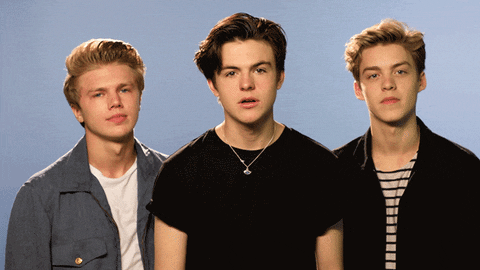 But, we're in Nashville – which has zero yawn factor as evidenced by the crazy amazing amount of things to do on any given day, including weekdays.
Here's our top picks for what's going on this week, July 16-19, 2018
Nashville Sounds vs. Omaha Storm Chasers
Monday, Tuesday, Wednesday and Thursday 7:05pm
First Tennessee Park
Who it's for: Sports enthusiasts, families and foodies
Why: There are four opportunities to see the Sounds take on the Storm Chasers this week and that's quadruple the chances to spend an evening under the Nashville stars watching up and coming players making a play for The Big Show. The ballpark and neighborhood have lots of opportunities for yummy eats and thirst quenching refreshments.
missing or outdated ad config
Additional appeal for multi-taskers: The Band Box, a 4,000-square-foot outdoor bar and restaurant located in the right field of First Tennessee Park. While you're watching the game, you can play ping pong, corn hole, pool, board games, table hockey and shuffleboard and simultaneously munch Smoked Pork Nachos and slurp a specialty boozy slushie.
The Bacon Brothers
Monday and Wednesday, 8:00pm
The Franklin Theatre
Who it's for: Music lovers, movie buffs, Kevin Baconites
Why: Six degrees of Kevin Bacon might just get a little less separate with The Bacon Brothers' appearances in Music City this week. Everyone knows at least half of this musical duo that has an impressive seven albums under their belt, so see the show for an opportunity to get exposed to more of the family and to their rock-soul-funk-Americana-inspired tunes.
Additional appeal for Footloose fans: Get a glimpse into Kevin Bacon's soul. The Bacon Brothers' new single "Broken Glass" was written by Kevin and recorded at Lehman College studio where Michael (the other Bacon brother) teaches. "It's a very personal song," Kevin says of its reflective musings.
Buddy Guy with Quinn Sullivan
Tuesday, 7:30pm
Schermerhorn Symphony Center
Who it's for: Musos, history aficionados, axe shredders
Why: See the guitar hero who inspired such Guitar Gods as Eric Clapton, Jimi Hendrix, Jimmy Page, Keith Richards, Stevie Ray Vaughan and Jeff Beck live, on-stage, one-night-only. Buddy Guy is a Rock and Roll Hall of Famer described by Clapton as, "the best guitar player alive".
Additional appeal for guitar enthusiasts: Buddy Guy was ranked 30th in Rolling Stone magazine's, "100 Greatest Guitar Players of All Time." In a city where everyone plays guitar and you can go to a honky tonk on any given night and see some of the best of the best, this Guy's a not-to-miss, living legend.
Jess Hilarious
Wednesday and Thursday, 7:00 pm
Zainies Comedy Night Club
Who it's for: MTV Wild 'N Out die-hards, giggle-chasers, smile-hunters
Why: Who doesn't need a mid-week laugh? And who better than Jess Hilarious to provide the chuckles and guffaws? 1.7 million Instagram followers can't be wrong, can they? Just watch her "Jess with the Mess" segments, her hilarious take on "the news" to find out why Ms. Hilarious brings all the laughs.
Additional appeal for those who want to see a star being born: See Jess before she blows up even more. She's about to debut on her first sitcom, Fox's "Rel."
Halsey: Hopeless Fountain Kingdom
Wednesday, 7:30pm
Ascend  Amphitheater
Who it's for: Electro-pop/synth pop freaks, dancers, anyone who's "Bad at Love"
Why: Nothing like a hump day happy dance and Halsey's infectious melodies, honest lyrics and hypnotic beats will make 'ya move! The 23-year old's debut album went platinum and she hasn't stopped since. Whether she's rocking a shaved head or blue hair, Halsey's stage show is sure to be the "Gasoline" for the rest of your week.
Additional appeal for activists and do-gooders: Suicide prevention awareness and sexual assault advocacy are causes close to Halsey's heart. She's known to speak out on issues that she feels strongly about and her shows provide her with a venue to reach the masses, so you never know what she'll expound on between songs.
Cheekwood Cocktail Crawl
Cheekwood Botanical Garden & Museum of Art
Thursday, 5:00pm
Who it's for: Libation lovers, art enthusiasts, gardeners
Why: Thursday is almost the weekend, so why not knock back a craft cocktail while admiring Cracking Art, Cheekwood's latest outdoor installation. Food trucks, live music and lawn games bolster the beautiful garden setting.
Additional appeal for the eco-art enthusiast: Cracking Art is an Italian artist collective that created the installation of large-scale, natural animal forms made from 100% recyclable plastic materials specifically for Cheekwood. The exhibit only runs until September 2.
_______________________________________________________________________
For all your Nashville needs (arts & culture, live music, eats and drinks, outdoor adventures and more) browse daily suggestions at Wannado.com/Nashville.