Wanna Dine?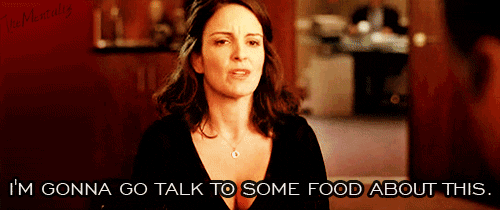 Hey, Liz Lemon – we've been there. Sometimes the best therapy in the world is letting out your holiday stress on a rack of ribs. We get it. It's Nashville. WE LOVE FOOD. Good food comes out in the top 3 most-talked about subjects in Nashville (the other two being who has the "vibiest" porch and Justin Timberlake possibly moving here). People have more opinions on Nashville restaurants than Kanye West has on everything. It's a serious business. While you're out and about doing your holiday shopping, you're gonna need a place to stop and have some YOU time. Some food time. With that in mind, we are giving you a (non-exhaustive) list of our fave places to get down with some grub in the 'ville this year. Here it is, y'all: our favorite Nashville restaurants to:
missing or outdated ad config
Fall In Love All Over Again: 
"This is no mere sandwich of grilled meat and toasted bread. This is God, speaking to us in food."

WHERE:
Eastland Ave. area in East Nashville (right next to Holland House)!
WHY:
You never forget your first love. This burger will make you feel like you're sixteen again. To sum up our feeling about the first burger experience at this Nashville eatery, you're gonna want to watch this inspired monologue. Not only does this place have arguably the best burger in town, but they have an awesome vibe. The Pharmacy has the feel of an old-school soda parlor. The beer garden in the back is a choice hangout spot, especially in the summer time (just watch out for birds, because we were dive-bombed by one once in the beer garden. That's real.). The beer selection is extensive, and don't hesitate to ask your waiter for a suggestion. The old-timey soda options are great too! But again, we aren't going to lie: we come for the burger. We stay for the burger. We can't quit the burger. This burger had us at hello.
WHAT TO ORDER:
There are definitely bestsellers, but if you're a fan of a classic, you're going to want to order the cheeseburger. Tomatoes, beef, garlic aioli – the works. So. So. Good. Another popular option is The Farm Burger – complete with eggs! If you haven't tried eggs on a burger, you haven't really lived. If you get the sweet potato fries, order a side of beer gravy – perfect combo!
---
Impress Your Fellow Diners With Your Pancake-Making Skills:
Pull a Jack Johnson and make some banana pancakes.
WHERE:
Near the charming Berry Road area on Bransford Ave.!
WHY:
Breakfast is an art in this fine city of ours. Yeah, Nashville is typically on the go, but we respect the most important meal of the day. There are plenty of breakfast joints that get lots of love, but one of the best places in the city can slide under the radar unless you're a local. Two words: Pfunky. Griddle. You'll walk in to a little house right off Berry Road, have some complimentary coffee, and sit on couches with some fine Nashville folk as you wait. It's the equivalent to hanging out in your grandma's house waiting for breakfast to start (in the best way possible). Then, you and your dining partners will be escorted to a table with a big ol' griddle in the middle of it. Order some batter and get to flapjackin', y'all! The worst part of cooking yourself breakfast is getting out all the ingredients, mixing, etc. – in this case you just pour and flip! Nothing can wake you up better than having to make sure you don't burn your breakfast in front of your breakfast date!
WHAT TO ORDER:
Controversial (but totally valid) opinion: the wheat batter is better than the white batter. Yeah, it isn't traditional, but sometimes choosing the underdog can be liberating. The wheat batter (when flipped right) makes a pancake that tastes almost like an oatmeal cookie, and is somehow better for you. Sorcery, we say! Make sure you load up on toppings – the m&ms work surprisingly well. If you're a skilled Pfunky Griddle-r, we dare you to make the perfect potato pancake.
---
Regret Nothing:
No Shame December (the lesser known follow-up to No Shave November, FYI).
WHERE:.
There is one in 12 South and one in East Nashville. Both have barbecue and an immovable place in our hearts.
WHY:
Barbecue is not just for uncomfortable outdoor family gatherings anymore, y'all. If you could WIN barbecue, Edley's would have 500000 gold medals, as far as we're concerned. 12 South can be a scary place to open a restaurant with staying power since the neighborhood is constantly transforming (but still staying super cool – hood pride!), but Edley's has done it. With a no-nonsense, yet homey decor, Edley's is a great place to take anyone: business meeting, catching up with an old friend, family outing – Edley's is IT. Our favorite dapper/hilarious New Englader, Seth Meyers, seems to think so too. The porch is great, the sweet tea is ballin', and the location couldn't be better. Wannado tip: go eat there armed with a healthy self-image, a treat yo-self mentality, and your fat pants. You're gonna eat a lot, but you know what? It's December, it's cold, you're hungry, and you deserve a rack of ribs. You're worth it.
WHAT TO ORDER:
THOSE BARBECUE NACHOS. We've had out-of-town visitors who dreamt of those nachos three nights in a row after they left. It's an appetizer, but it is HUGE and you can easily get it as a meal (and finish it yourself – remember, you regret NOTHING). If nachos aren't your thing/you hate everything good (just kidding, sort of), you should get the barbecue sandwich with a side of mac and cheese. Their mac and cheese is killer! Another Wannado tip: you can order the kid's barbecue sandwich, which is basically the same size with one less side included, and it is insanely cheap! Win, win, win. All we do is win.
---
Find Out What All The Hype Is About:
You don't need a hype man when you have a stunning review from Esquire Magazine.
WHERE:
Ain't no town like Germantown!
WHY:
This fairly new Nashville eatery is the most popular girl in school right now. But not like, Regina George, popular – they're the new girl with great hair who's grown up traveling the world with her family and will help you with your French homework. In short, Rolf and Daughters is cool, hip, and worldly. We aren't the only ones that think so: the awards keep rolling in for this place (it has been named one of the best new restaurants in America from pretty much every magazine that has ever had Kings of Leon on the cover). Yes, it's a tad pricey, but it is extremely worth it. Make it an occasion and call ahead – Rolf and Daughters books up fast! The portion may look small when it is brought to you, but these are small portions done right – rich, filling, and made from the best ingredients. They live up to the hype.
WHAT TO ORDER:
If you have a Christmas bonus and an ability to eat large amounts of food in a short time, we'd say just order one of everything (that was the advice we got from LEAGUES' very own Thad Cockrell). If you don't have that winning combo, you have to try the Squid Ink Pasta. Nope, we aren't kidding. Have we ever steered you wrong?
---
Have Cafeteria-Style Food That Is Actually Delicious:
Meat and Three. Or four. Or five. It's up to you.
WHERE:
8th Avenue before you hit the traffic circle and end up downtown! It's right across from the industrial-looking antique store.
WHY:
Nashville does Southern food with flair. There are so many "home-cookin'" restaurants around town that it can be difficult to find one with the original, no-frills, Southern goodness that all of them claim to have. Well, look no further. Arnold's Country Kitchen is basically a landmark. Nestled in between the 8th South area and the chaos that is downtown, it is a bit hidden, but if you drive by you can't miss it! The bright red building stands proudly, and there is generally a line out the door during lunch hour. But don't fear! The cafeteria-style line and the valiant efforts of the long time bus-boy (he is the nicest man you will ever, ever meet) keep the line movin' quick! The family-owned business gives the diner the authentic vibe. Also, they have a glamour shot of a young Rider Strong (Shawn from Boy Meets World) hung on the wall and the whole family looks like him, so we have a conspiracy theory that they're all related (we once had a dream that Rider served us our green beans). But we digress. The food is awesome. You have to go.
WHAT TO ORDER:
It's really hard to go wrong at Arnold's, but our typical order is usually roast beef with gravy, mashed potatoes, and green beans. But, let's take a second and talk about THAT PIE. Their chocolate pie is the best pie we've ever had, and we are serious pie enthusiasts. The cornbread is obviously to die for, as is the sweet tea. Truly…whatever you get is gonna be awesome.
---
So Nashville, take a break from running through Green Hills mall in a panicked daze looking for the best Christmas gift ever for your friends and family. Duck into one of these fine establishments and get yourself a little Christmas gift: the gift of fine dining. We've said it once, we'll say it a million times: sometimes, you just gotta treat yo-self. For more recommendations and things to do in Nashville, grab Wannado! We've got you covered.
– Your local guide.